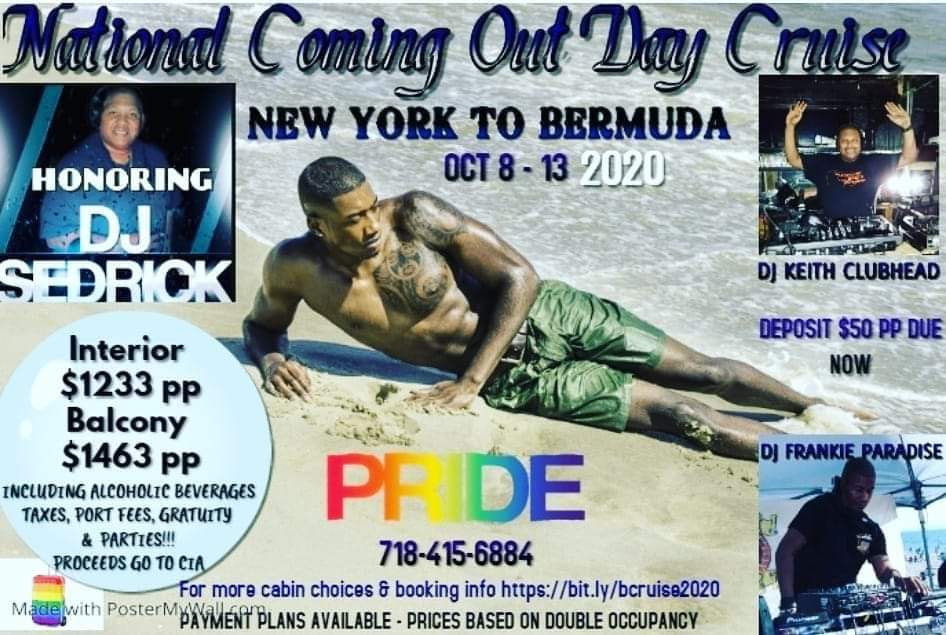 In celebration of
NATIONAL COMING OUT DAY
We are sailing from New York to BERMUDA Oct 8 - 13, 2020!! We have a full year to plan for this EPIC CRUISE! Sailing with us will be the HOUSE MUSIC & MORE LEGENDARY. Please celebrate our two newest DJ's to join us are DJ KEITH CLUBHEAD & DJ FRANKIE PARADISE!! Expect to DANCE, DANCE! Book your cabin now with the EARLY BIRD SPECIAL of $50 per person deposit available until further notice. Payment plan available. Final payment date is 6/5/2020.
***UNLIMITED DRINK PACKAGE INCLUDED!!!!
Cabins ARE selling follow the link below to book! Follow this link to book....
PLEASE SHARE THIS SITE WITH YOUR FRIENDS!
It's time to make a deposit for our
LADIES PLAYTIME CRUISE!
You don't want to miss 500+ women on this 7 nights/8 day cruise to Ocho Rios Jamaica, Cozumel Mexico, Cayman Island, and Ocean Cay Bahamas. Unlimited food and drinks!! For more info inbox me or email [email protected]
Ladies, join us on this beautiful MSC Cruise Ship! MIAMI to JAMAICA, CAYMAN ISLANDS, COZUMEL MEXICO, AND OCEAN CAY BAHAMAS!! JUST A $200 DEPOSIT PER PERSON!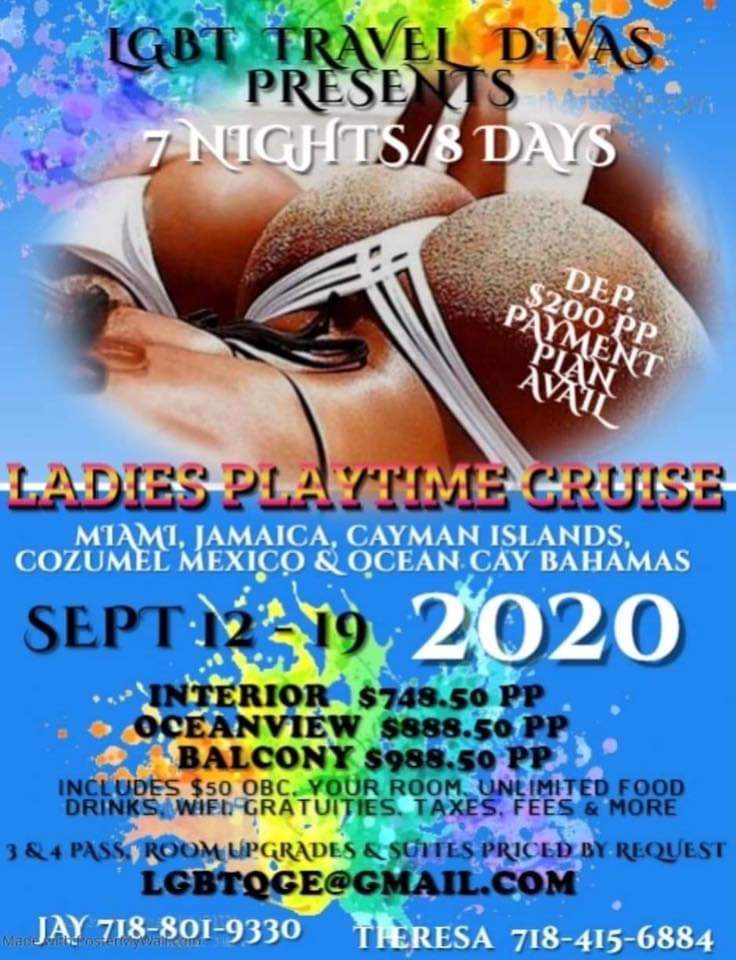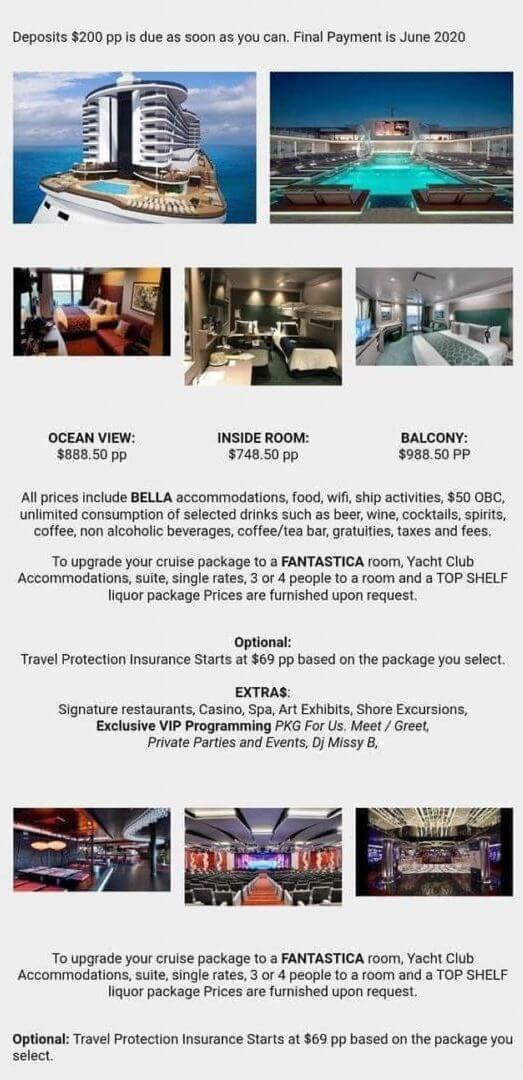 Is a yearly event where you meet, greet, party, experience excursions and jet-set with women from all over. May 21-May 26
Hosted By Dj M, Samantha, Theresa, Mia, Kimora & Madison The Promoter
This is a 3 to 5 night event Getaway. You can even fly in a few days earlier or a stay a few days later.
What to expect: A beautiful 5 STAR All Inclusive Beach Resort with VIP Service.
The price includes Flight, Hotel, Food, Drinks, RT transfer, Room Service All Taxes, Tips & fees.
Prices vary depending on travel options. To request a Quote send us the information by answering the questions below by emailing [email protected]
The JetSet VIP PARTY IS a Separate rate.
The All Access Early Bird Pass is $200 pp in Advance. More in Cancun
$200 pp covers Meet & Greet, Booze cruise, All white dinner dance party, Luau Beach or Pool party & Sunset Champagne cruise. Food and Drinks Included at all events
***Passes go on Sale in November***
Individual event passes are sold in Cancun Only.
YOU MUST A HAVE PASSPORT (The Blue Book)!! Start working on it now!!!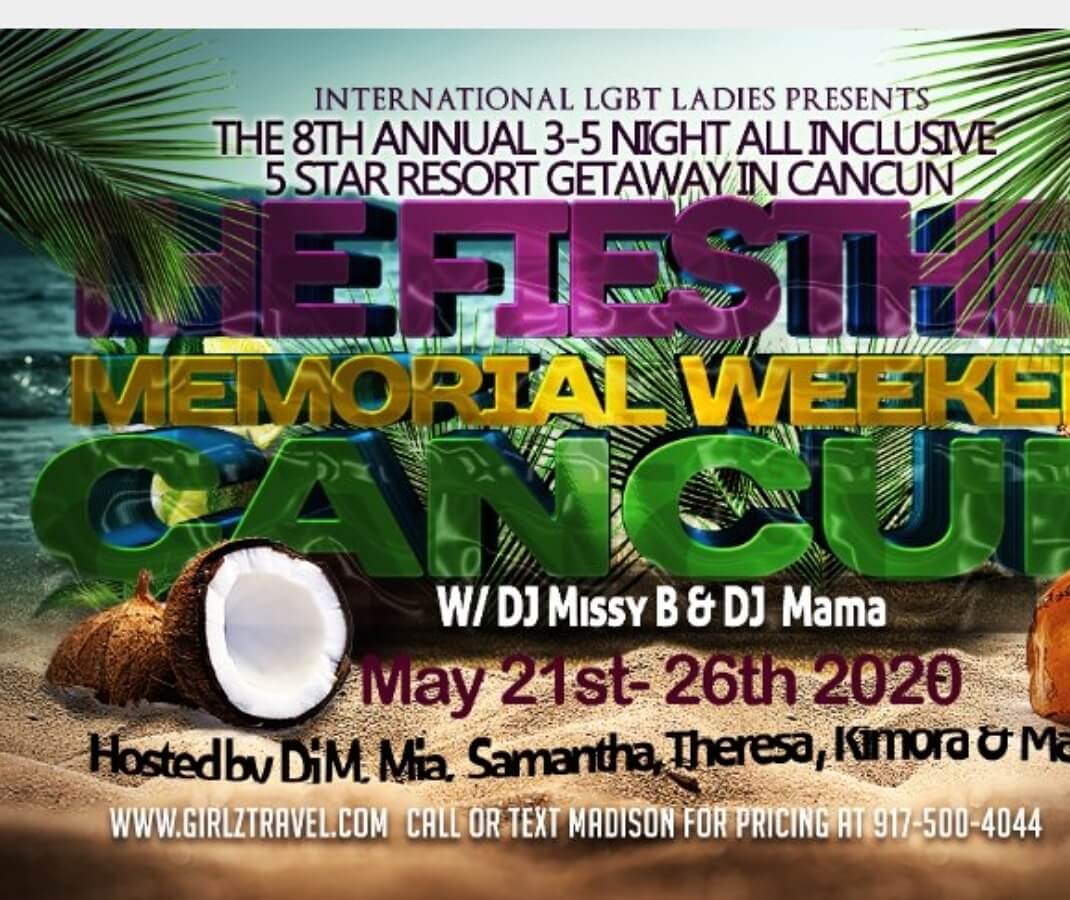 All proceeds go to Communities In Action – The Vision